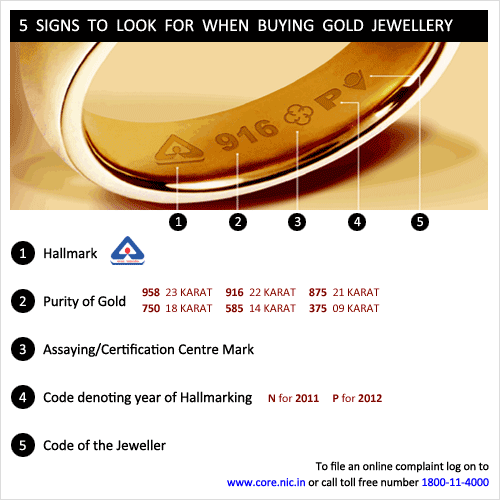 For jewellery which you already own and is not hallmark certified for some reason you can get it checked for purity by getting a 'touch report' from the local jeweller in your city who is authorized to do so.

As a cautionary note always purchase jewellery which has a hallmark certification. Hallmarked certified jewellery carries a embossed BIS logo, a three digit number indicating the purity of gold (958, 916, 875, 833,792,750,708,667, 585, 375 - BIS 958 indicates 23 karat gold, while BIS 916 translated to 22 karat gold and so on), logo of the assaying/certification center, code denoting year of hallmarking and logo or code of the jeweller. While purchasing jewellery make sure that you get proper payment receipts from the gold jeweller for the payment you have made against it.

Note: KDM jewellery is not Hallmarked jewellery.

BIS (Bureau of Indian Standard) hallmarking is a system used in the Indian market for certifying the purity of gold serving as a third party assurance between a gold (jewellery, coin or bars) seller and a buyer.

Hallmark on jewellery is given by Bureau of Indian Standards (BIS)
Jewellery is Hallmarked by specialized laboratories known as 'Assaying and Hallmarking Centers'. Hallmarking is not been done by jewellers
The marking is done either using punches or laser marking machine
Only jewellers licensed by BIS can get the jewellery Hallmarked for purity from BIS recognized 'Assaying and Hallmarking Centre' Hallmarking charges for rough around Rs.25 per article
For Customer Complaints
In-case of any complaint on Hallmarked jewellery contact Bureau of Indian Standards (BIS). Click here for contact details.
To file an online complaint log on to www.core.nic.in or call toll free number 1800-11-4000
To get state consumer help line numbers click here